5th Annual Ney Day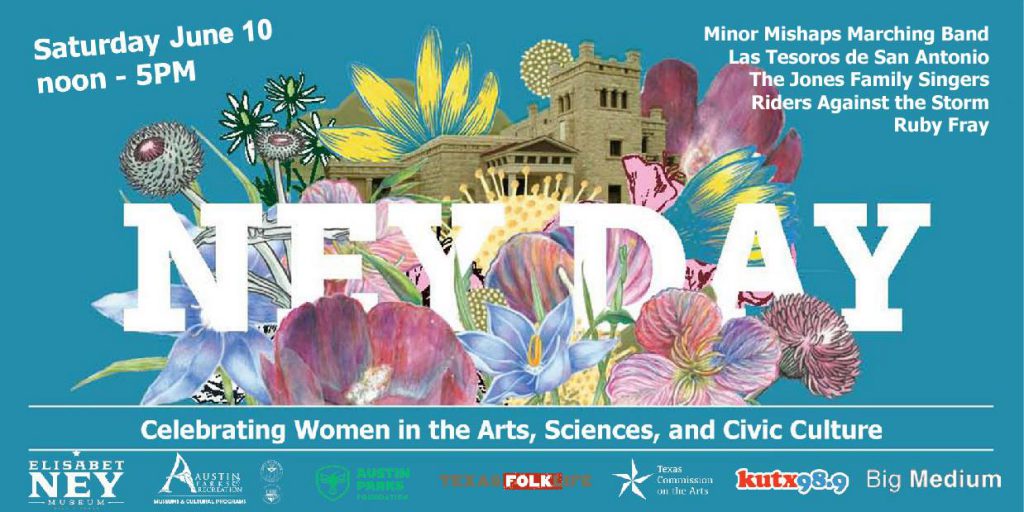 Saturday June 10, 2017
12 noon – 5 pm
Elisabet Ney Museum (Map)
1100 E. 5th St., Austin, TX 78702
Plan to join us on June 10 to celebrate Elisabet Ney and her inspirational legacy with us!
Find Out More Here
QueerBomb
Saturday June 3, 2017
8 pm  – 11 pm
Fair Market
1100 E. 5th Street, Austin, Texas 78702 
Tour de Broccoli Pop-Up Concerts 
Yay for Local Farmers!  Grab Your Bike and Join Us.
Sunday May 21, 2017
11:30 am  – 2:30 PM 
11:30 am – 11:55   Rain Lily Farm    914 Shady Lane
1:00 pm – 1:30      Farmer's Market at Plaza Saltillo Station    5th and Comal St.
2:00 pm – 2:25      Austin Food Forest    35 Waller St.
We love our local farmers and wanted to have a show that highlights the amazing abundance of local produce grown right here in East Austin. Tour de Broccoli is a series of short pop up shows by the Minor Mishap Marching Band, at farms, farmers markets, and Austin's Food Forest. Minor Mishap will be enjoying the fresh air, and biking from location to location.  You are welcome to bike the route along with us, if you like. If you prefer, you can meet us at any of the pop up locations along the route. We are saving the best for last – the Food Forest is a project of sustainably planted food that is absolutely free and available for the taking.  We support our local farms, and the food forest, and recognize the importance of locally grown food in making a strong, sustainable, healthy community.  Please join us for this afternoon adventure!
This show is free, and all are welcome.  All ages are encouraged to attend. The pop-up shows are all in public, ADA accessible spaces. We are arranging a few pedicabs for folks who might need them.
This project is supported in part by the Cultural Arts Division of the City of Austin Economic Development Department. (Thanks, City of Austin, for making this show possible!)
This project is also supported in part by the Krewe de Mishappiness, an amazing group of Minor Mishap fans who have come together to support Minor Mishap's endeavors to re-energize public spaces and build community connections through fun, free, brassy performances.
Find Out More:
https://www.facebook.com/events/750841415078736/https://www.facebook.com/events/647482858777178/
Baile Do Seu Jacinto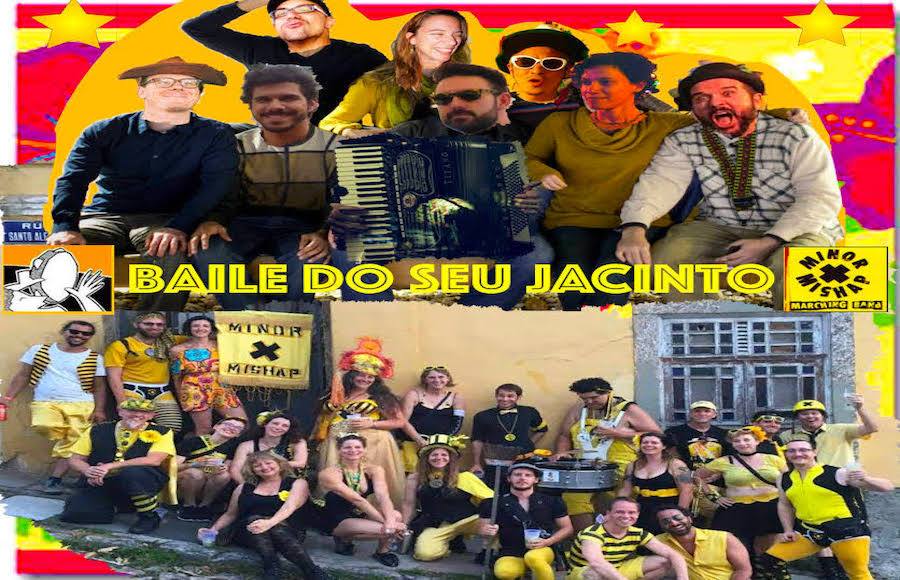 Friday May 12, 2017
9 pm – 1 am
Sahara Lounge (Map)
1413 Webberville Rd., Austin, TX 78721
Calling the dancing people of Austin, Texas! May brings the very special Minor Mishap Marching Band to join Seu Jacinto for an amazing night!!
The spirit will be elevated. Save the date – come indulge and share your energy in this night of dancing, friends, and good funky ATX vibes.
Find Out More: https://www.facebook.com/events/750841415078736/
May Day Celebration of Solidarity with Trouble Puppet
Saturday April 29, 2017
1 pm
Zilker Hillside Theater (Map)
2206 William Barton Dr., Austin, 78704
A marching celebration of Solidarity.  March with us on the 29th of April, with the Minor Mishap Marching band and speakers from the Workers' Defense Project and Grassroots Leadership.
Find Out More: https://www.facebook.com/events/750841415078736/
Euphoria Fest
Saturday April 8, 2017
6 – 7 pm
Carson Creek Ranch (Map)
9507 Sherman Rd., Austin, 78742
For more information click HERE.
HONK!TX
A Free Festival of Community Street Bands
Friday March 31 – April 2, 2017
Austin, Texas
Friday March 31, 2017
A Night on South Congress
6:30 – 7pm, Jo's Coffee House Stage
8-10pm: All Bands Revue
Cheer Up Charlies
Friday March 31, 2017
10 pm
900 Red River St., Austin, Texas
Join us for a HONK!TX after party with Honking-special guests!
HONK!TX
Saturday April 1, 2017
A Day in Adams Park
12noon – 12:45pm, Wheatsville
4:30pm – 5:15pm, West Grove
For more information and schedule click HERE.
HONK!TX
Sunday April 2, 2017
East Austin Parade and Band Revue
12noon – 5pm
Pan Am Park at 3rd and Chicon
For more information and schedule click HERE.
Super Band Merge Bloco Workshop and Parade

Lemon Lounge
Thursday, March 30, 2017
7-9 pm
908 E. 5th St., Austin, Texas
Dear, sparkling, wonderful, joyful bands of HONK!TX 2017: Please bring your horn and join us for this workshop and Super Band Merge Bloco. We will start at the Lemon Loung
e, with a workshop on Rio-style Bloco band processions.  The parade will then meander along the sidewalks to the HONK!TX Thursday night fundraiser show at the Sidewinder! (Please note: this is not a big official parade; it is essential that we stick to sidewalks and avoid blocking intersections. It IS legal to parade without a permit or police escort, but it is not legal to block the streets.)
Moon Tower and Minor Mishap
Hotel Vegas
Wednesday March 29, 2017
10 pm
1502 E. 6th St., Austin, TX
Siberia
with Slow Danger
Sunday March 25, 2017
9 pm
2227 St. Claude Ave., New Orleans, LA
Borderfest – Hidalgo, Texas
March 3 – 5, 2017
State Farm Arena
2600 N. 10th Street
Hidalgo, Texas
In its 41st year, South Texas's largest music, culture and
heritage festival "BorderFest" will celebrate the U.S.A. Each year, the
festival has paid homage to a different country, bringing a bit of its
culture and history to the Rio Grande Valley.  Join us for some true South Texas fun!
The Parish

Wednesday, March 1, 2017
10pm
214 E. 6th St., Austin, TX
More Information and Tickets: The Parish
Mardi Gras in New Orleans
Friday, February 24, 2017
HONK Band Blitz
9:30pm – 2am
Castillo Blanco Art Studio
4321 St. Claude Ave., New Orleans, LA
Line-up: Browncoat Brass, Minor Mishap Marching Band, Lovebomb Go-Go, Detroit Party Marching Band, Chaotic Noise Marching Corps.
Saturday, February 25, 2017
7th Annual Panorama Brass Band Show
9pm – the cows come home
Allways Lounge 
2240 St. Claude Ave., New Orleans, LA
More Information: Allways Lounge, Mardi Gras Parade Schedule
Bate Bunda
Sunday February 26, 2017
HiHo Lounge
2239 St. Claude Ave., New Orleans, LA
More Information: HiHo Lounge, Mardi Gras Parade Schedule
Second Line Parade for funky Meters
Thursday, February 16, 2017
3TEN ACL LIVE 6pm
310 Willie Nelson Blvd., Austin 78701 (map)
Minor Mishap and our HONK!TX friends will be kicking off Mardi Gras season with a parade through the 2nd Street District. We'll take you through the streets and back to the Moody Theater for the funky Meters show (with Flow Tribe and 7 Come 11).  Get your New Orleans on and join us!  More details to come.
More info: funky Meters, Flow Tribe, 7 Come 11
HONK!TX Brass Blowout FUNraiser

Saturday, January 21, 2017
8:30 pm at The North Door
502 Brushy St., Austin 78602 (map)
HONK!TX 2017 is just around the corner! Join us for HONK!TX's Brass Blowout FUNraiser! Suggested donation of $10 at the door, cash or credit. Bid on aaaamazing silent auction items from local businesses, makers, and musicians throughout the night!
Emceed by the one-and-only performer/entertainer/music maven, the fantastic Luna Tart, local brass bands will rock the North Door off its hinges, giving you a taste of what's to come at this year's festival. Performers include:
Yes Ma'am Brass Band
Moon Tower Brass Band
Mazel Tov Kocktail Hour
The Collective Dischord
Dead Music Capital Band
Boss Street
Minor Mishap Marching Band
The show will include unique archival films provided by the Texas Archive of the Moving Image playing as a backdrop to the bands' perfomances.
All proceeds benefit HONK!TX's 2017 free, family-friendly, all-volunteer run festival, which is coordinated by HONK!TX, a 501(c)(3) nonprofit organization right here in Austin. Can't make it? Support HONK!TX through our online fundraiser at https://www.generosity.com/celebration-fundraising/honk-tx-2017-you-make-it-gogo
All ages until 11pm; 18+ after 11pm!
Happy HONK!
St. Elmo NYE 2017
Saturday, December 31, 2016
8:00 pm
St. Elmo Brewing Company
440 E. Saint Elmo Rd., Austin 78645 (map)
***South Austin*** New Year's Eve Party, with tons of craft beer and brassy-ness? Sounds dreamy! Join Minor Mishap Marching Band and Saint Elmo Brewing Company for New Year's Eve!
$10 advance, $15 day of show.
Purchase tickets by clicking HERE.
Minor Mishap Marching Band's Winter Solstice Lantern Parade!
Wednesday, December 21, 2016
6:00pm – 7:00pm
Seaholm Power Plant
800 W. Cesar Chavez St., Austin, TX 78701
Please join us for a celebration of light, music, and community on the longest night of the year! Let's gather together out in nature, under the dark sky to celebrate music and community and being alive. Won't that be beautiful?  And the beauty of this event depends on YOU!  Make lanterns! It's easy and fun!  Let's all make lanterns (please flashlight and flameless lanterns, OK?).  Need some ideas and instructions for making a lantern? Click Here.
Minor Mishap Marching Band will play music from 6-7pm. The "parade" route is extremely short to make it easy for people of all ages to attend.  This is a free, family-friendly event. All are welcome.
This parade is also supported by the generous involvement of our Krewe de Mishappiness members. Thank you for being amazing! You can learn about (and join) the Krewe de Mishappiness here:
https://squareup.com/store/minor-mishap-marching-band
Minor Mishap would like to extend a special thank you to Seaholm Power Plant for donating the use of their gorgeous space in support of community and art!
This project is supported in part by the Cultural Arts Division of the City of Austin Economic Development Department.
Benefit for Haiti

Thursday, December 15, 2016
8:00pm – 10:00pm
Summit Lounge
120 W. 5th St., Austin, TX 78701
$10 Suggested Donation
Help give electricity to Child's Hope Orphanage
This benefit is designed to raise money to pay for the cost of installing a 100 percent sustainable off-grid solar system for an orphanage in Haiti that does not have electricity. Haiti has the world's largest population living in energy poverty, with over 7 million people without access to electricity. The solar project in Haiti will begin in January, and your support is greatly appreciated!
Baile Do Seu Jacinto – End of 2016 Celebration
The Sahara Lounge
Friday, December 9, 2016
9:00pm – 2:00am
Click Here to find out more
Time to seal the deal on 2016 and let our freak flags fly free!
Come enjoy a fantastic night of music and friends at the magical Sahara Lounge!
Seu Jacinto will be celebrating a decade of bringing Forró music to Austin Texas. We will play your favorite forrós,baiãos,xotes, and cocos to get your bodies and spirits warmed up.
We have the very special guest-
Minor Mishap Marching Band!!!!!!!BOOTY SHAKIN' BRASS BAND – a 25 piece renegade circus brass band. We are an absurd expression of boisterous pandemonium– Bourbon street meets Budapest.
Come get in your mood in the real good zone and let's shine!
Wimberley Alive! Music and Arts Festival
Saturday, November 12, 2016
3:00pm – 4:30pm
Click Here to find out more
Come hear the music, see the art, and support Wimberley Crisis Breadbasket food bank.
Minor Mishap's Carnival de Halloween Ball!
Friday, October 21st, 2016
7 pm doors, Ball 8pm-12am
Lemon Lounge, 500 San Marcos, Austin, TX 78702
BUY TICKETS!
$12/advance, $15 at the door.  Advance tickets are strongly recommended, please scroll down for event-specific tickets. *Please note that admission to the Carnival de Halloween Ball is included with a Krewe de Mishappiness Membership.  Learn about Krewe de Mishappiness
Minor Mishap's Carnival de Halloween Ball will be a magnificent costume ball of cacophonous brass, tomfoolery, and splendid frivolity.  It's also the inaugural Ball of our new Krewe de Mishappiness!
Carnival de Halloween Ball is a party to send us off to Honk Rio in Brazil! Help us make it all the way to RIO!! Dress fabulously, foolishly, frighteningly, flirtatiously, and frivolously. It's never too early to start planning a fabulous costume – Carnival, Halloween…it's the best of both worlds. We hope you can be there!