L'Alimentation Générale
64, RUE JEAN PIERRE TIMBAUD – 75011 PARIS
avec Orkestar Gabriella
20h00 gratuit
Festival des Fanfares de Montpellier
Friday, June 9 – Sunday, June 11
Montpellier, France

La Vie en Reuz
Saturday May 27 & Sunday May 28, 2023
Douarnenez, Brittany, France
free! family friendly!

HONK!TX Brass Band Festival
March 31- April 2, 2023
free! family friendly!

Friday, March 31
Central Machine Works
4824 E Cesar Chavez St, Austin, TX 78702
Band review!
Event 6:00pm-10:00pm
Minor Mishap: 9:24pm-9:41pm

Saturday, April 1
Mueller Lake Park
4550 Mueller Blvd, Austin, TX 78723
Event 12:oopm-5:30pm
Minor Mishap: 3:00-3:00pm @ the Fire Pit
Minor Mishap: 5:00pm-5:30pm @ the Amphitheater

Sunday, April 2
Pan Am Park
2100 E 3rd St, Austin, TX 78702
Event 1:00pm-5:30pm
Minor Mishap: 4:24pm-4:41pm

Infamous Brewing Company
March 25, 2023
10 Year Anniversary Party
4602 Weletka Dr, Austin, TX 78734
Minor Mishap: 1:00pm-2:00pm

SXSW Auditorium Shores- HONK!TX Showcase
March 18,
Event 3:00pm-6:30pm
Minor Mishap: 5:40pm-6:15pm
Auditorium Shores
900 W Riverside Drive, Austin, TX 78704
free!

Dinosaur Parade!
Saturday, February 18, 2023, 1pm
Zilker Botanical Garden
2220 Barton Springs Rd, Austin, TX 78746
Free with admission to Zilker Botanical Garden
HONK!TX Fundraiser
Saturday, February 11, 1-5 pm (Minor Mishap 4:30-5:00)
Far Out Lounge
8504 S Congress, Austin, TX 78745
$10
HONK!TX presents: Laissez le Far Out Rouler Funkadelic Fundraiser!
Saturday, February 11, 1-5pm at The Far Out Lounge and Stage! $10 donation at the door (credit cards
) (all ages
)
Honk!TX is a 501(c)3 non-profit organization, and donations are tax-deductible, where eligible.
Geisterzug – German Carnival Party
Independence Brewing Company – Geisterzug Kölsch launch
February 4, 2023
2-5 pm Mask Making Geisterzug Party
3-4 pm Minor Mishap Marching Band
3913 Todd Lane, Austin, TX 78744
About the Geisterzug tradition:
The German city of Cologne (Köln) is known for three things: eau de Cologne (i.e. perfume); the Kölsch style of beer (a uniquely crisp and clean top-fermented, cold-conditioned ale); and the biggest and most raucous Carnival celebration in Europe. This epic citywide party rages for 6 days and nights leading up to Lent. Unlike other Carnivals, whose big party is Mardi Gras, Cologne's week-long celebration packs in so much debauchery that the city's residents refer to it as the "5th season." Each day features a themed parade and on Saturday night a macabre procession called the Geisterzug ("Ghost Train") winds its way through the city center.
So don your craziest garb, fill a glass of kölsch, and we'll go ghost parading. All aboard!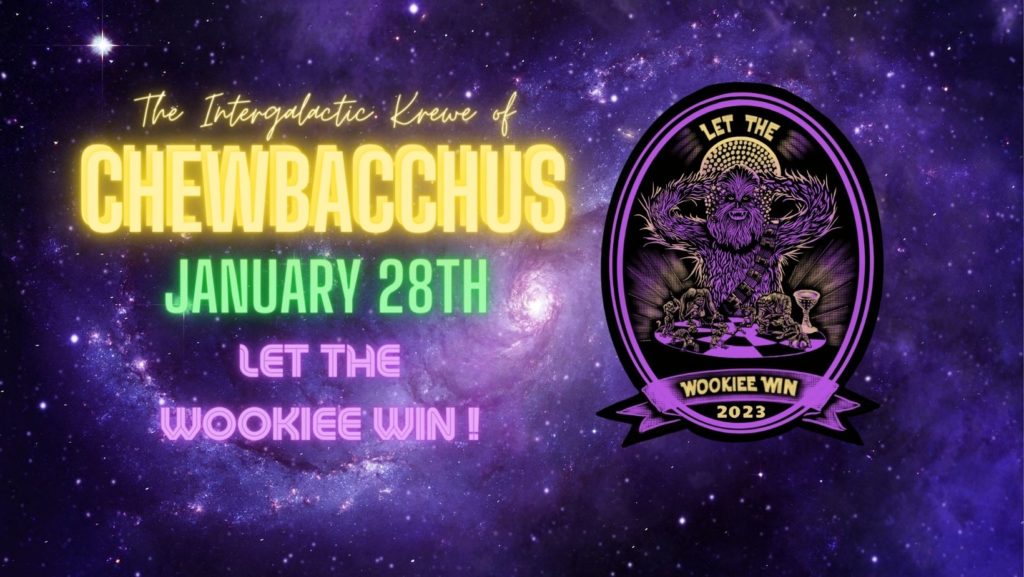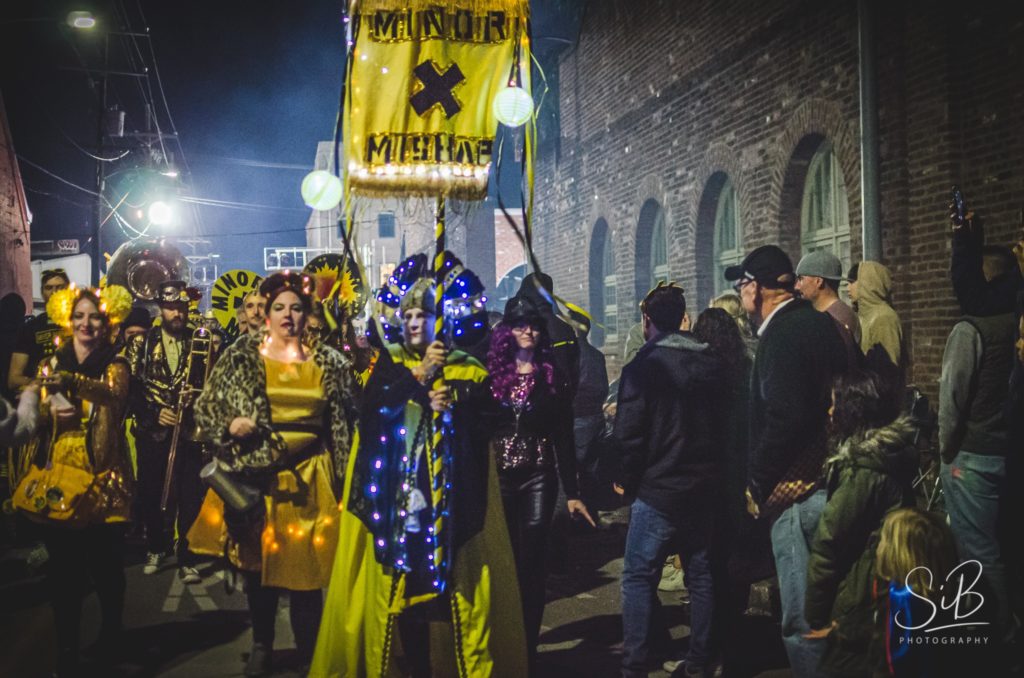 Minor Mishap Marching Band returns to New Orleans for Mardi Gras Season!
The Intergalactic Krewe of Chewbacchus
January 28, 2023
New Orleans, Louisianna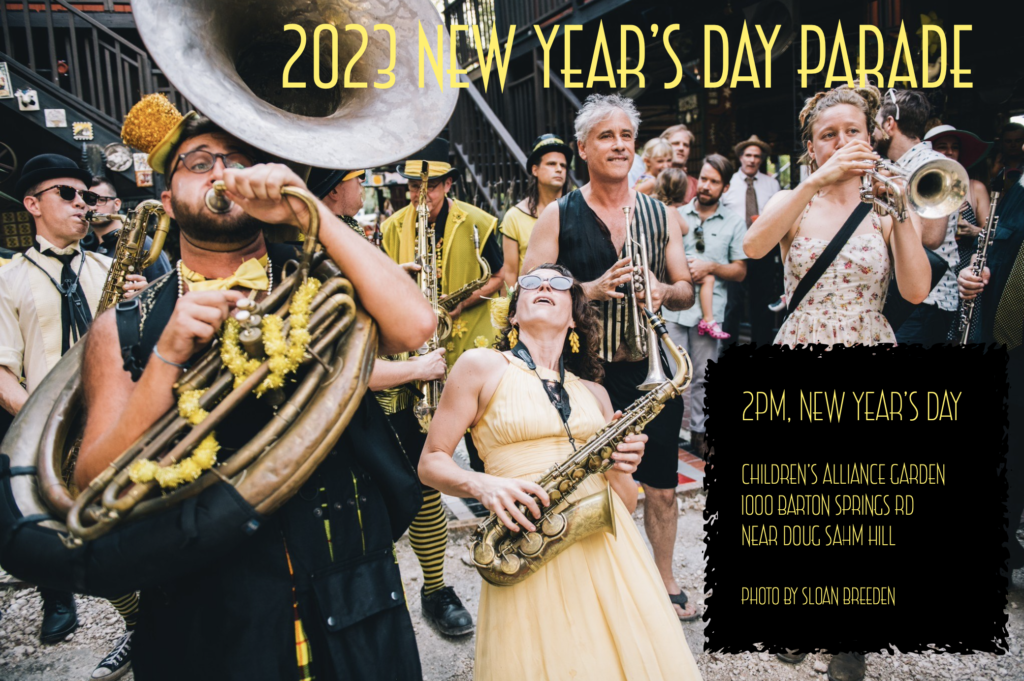 New Year's Day Parade
Sunday, January 1, 2023, 2pm
Children's Alliance Garden
1000 Barton Springs Rd, Austin, Texas
Free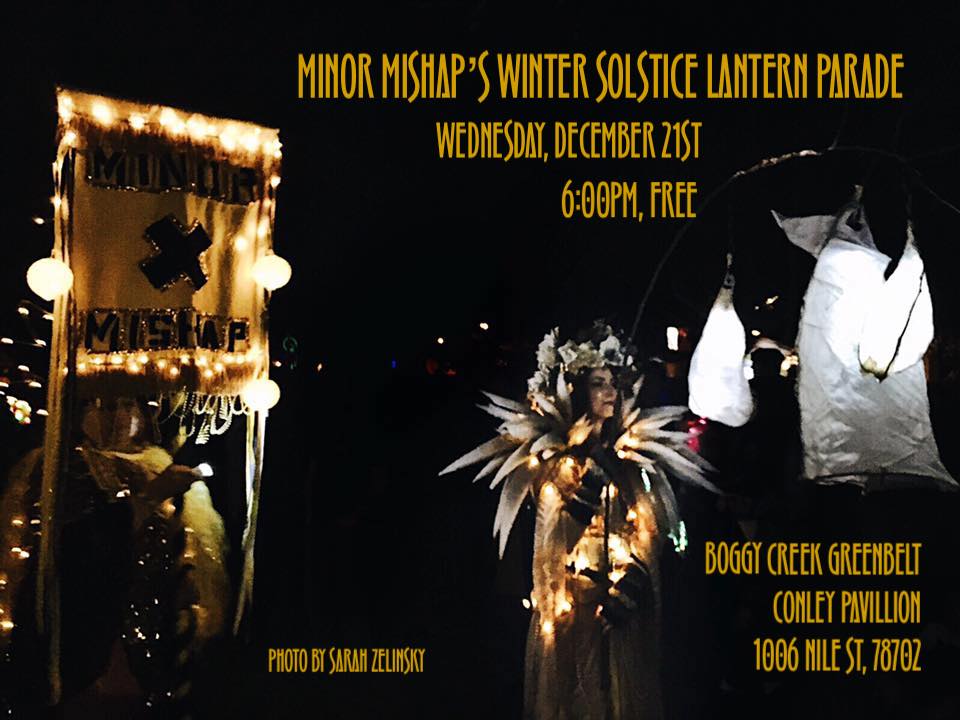 Winter Solstice Lantern Parade
Wednesday, December 21, 2022, 6pm
Boggy Creek Greenbelt, Conley Pavillion
1006 Nile St, Austin, TX 78702
Free
Hi Hat Reopening
Saturday, December 17, 2022, 8pm
Hi Hat Public House
2121 E 6th St, Austin, TX 78702
Outdoor Show